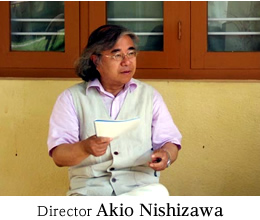 Why did you make a live-action film,
a documentary film, for your fourth work?
It doesn't matter for me whether it is an animation or a live-action film. I place an emphasis on 'to be deeply impressed' than 'to amuse people as an entertainment'.
This time, I happened to read a book on Gyudmed Monastery and it said a Japanese man devoted himself to the reestablishment of the ruined temple. Since I was much impressed with his deeds, I decided to film the realities about it.
Please let me know what Gyudmed Monastery is?
It's very difficult for me to describe all about it in a 2-hour film. About 500 monks prayed and did practices ascetically from early morning till night throughout the year. Although I perceived the strained atmosphere in the monks' practices, every monk looked merciful and satisfied. I was so surprised to know such a calm world which I'd never seen before.
It took much time from visiting India for the first time in August 2007 to completing the film in 2010. Why is that?
At first, 70-hour films were piled up and they were converted into 25 DVDs. Then I shortened them into 4 hours length at my house. I made it into 2 hours length at last. It was really tough. Moreover, world media were complicated by the political unrest, the Summer Olympics in Beijing and the Great Sichuan Earthquake in 2008, so I had to make strenuous efforts to write the scripts I edited.
I declare that I have no intension of criticizing any political aspects of China in this film.
Two boys, Topjor and Delek were very impressive.
It was a very good job of the staffs in advance to find out the child monks. We filmed some other good features of young monks, but I finally focused on two boys. Because they were at Gyudmed thousands of miles away from their hometown, I knew they must have endured the strict practices every day and missed their families. However, they always showed calm smiles on their faces. Their attitudes have still vividly imprinted on my mind.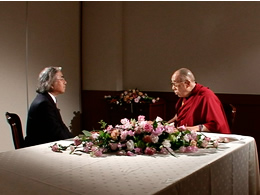 It was admirable that you could realize the interview with His Holiness 14th Dalai Lama.
It was a bold request to ask him an interview for the film about 'Gyudmed Monastery and Mr. Hiraoka', I'd say. So I asked the Liaison Office of His Holiness Dalai Lama for Japan and East-Asia. His Holiness especially spared me his time when he visited Ise Grand shrine in November, 2007.
He was very gentle and friendly. Besides, he had an aura of irrepressible smile that wraps everything.
After finishing the interview, he shook hands with all of us. We were deeply moved by that.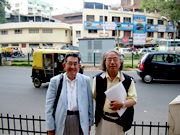 What is the most important point you wanted to appeal in this film?
It's the Hiraokas' 'altruistic' behavior. Nowadays, self-centered way of thinking began to spread through many people. Nevertheless, it's so respectable of him to consider about the people, the religion and the culture of other countries. He still continues to support Gyudmed in unwitnessed by the people outside the monastery.
It is not done by "the support to be compelled" but by "the support to be driven by his voluntary mind". He took it granted that his support would be his own practices. I think that is why he regards his annual visit to Gyudmed as 'pilgrimage'.
I think that his altruistic way of thinking, which Tibetan Tantra-teachings put the especial emphasis on, could help human beings as well as the whole world in the 21st century.
Was there anything else you were particular about in this documentary?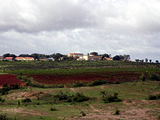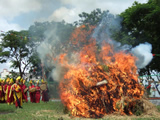 First of all, no sound effects and even a single BGM were used in this film. I looked for them for months, but I couldn't understand at once. So what you will hear in this film is only natural sounds such as birds chirping, winds and brooks murmuring, evils burning and monks praying. All the sounds represent Gyudmed itself.
A voice actor was adopted for the narrations of the film, but I was not necessarily satisfied with it. So, I myself played a part of the narrator. I think it will be pretty successful because I narrated the screenplay written by myself.